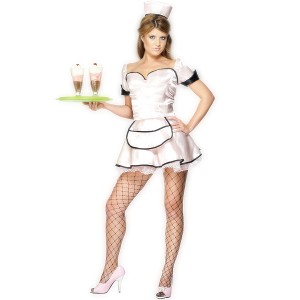 Choose from our SEXY smorgasbord of lingerie babes to serve at your next event. If you're looking to give your some edge whilst still keeping it classy, then our topless waitresses might just be the answer. Having a gorgeous, professional topless waitress serve drinks and canapés at your event is a fantastic way to add a little sex appeal and get people talking. For wilder nights like a bucks celebration, having nude or topless waitresses serve at the beginning of the night sets the tone for more intense entertainment later on in the evening. Our gorgeous girls are available to serve in lingerie, topless, or completely nude at your Sydney event or celebration.
We Do Waitressing With a Raunchy Difference
Black Label Hunnies are just the social lubricant every party needs! Young, fit and sexy, the BLH waitresses are something else, they'll serve you ice cold beers a G-string and a smile or even less if you so choose. All of our servers in Sydney are experienced in topless waitressing and perfectly adept at mingling with your guests and making sure that everyone has a good time.
DURATION – Minimum of 3 hours unless the lady also has a show booked in which case any duration applies.
Generally we prefer to book TWO or more lingerie waitresses at each booking however, if your budget only allows you to book one lady on her own- there will be an additional $50 for her security guard to pick her up and drop her off at your booking.
CBD Rates:
Lingerie – $100. ph – Per Girl.
Topless – $130 ph – Per Girl.
Nude – $250 ph – Per Girl.
Heat Things up with a Strip Show
If you're looking to have a wild night, then combining topless waitresses with an adult performance is the perfect way to up the raunch factor of your evening. Many of our lingerie waitresses are also available for shows which range from sexy R rated performances through to double and triple lesbian shows which are nothing short of scandalous and not for the faint of heart. For more information on the extensive range of services we offer in Sydney, please don't hesitate to get in touch with us on 0423 458 411 or through email.