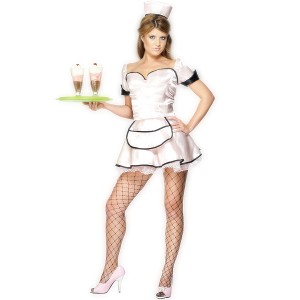 Take Your Party to the Next Level with Forster's Hottest Strippers
Take your event to a whole new level with cheeky adult entertainment from Black Label Hunnies. There's nothing that says, 'good time' quite like a female stripper or topless waitress does and Black Label Hunnies offers performers and shows that have to be seen to be believed. We're well known in Sydney for having the hottest, sexiest, and kinkiest strippers on our books and for our steamy shows so raunchy they're illegal in some states.
That being said, we cater to all tastes and offer services to suit every style of event and desired level of intensity. Our services range from fun and flirtatious topless waitresses through to XXX girl on girl performances which take the meaning of dirty to a whole new level. Black Label Hunnies have male and female strippers available for events in Forster and surrounds.
Drink In Style With Our Lingerie Waitresses
Nothing gets people talking like sex does and with our topless waitresses serving the crowd in little more than a G-string, that will be the topic on everyone's minds. All of our girls are experienced in topless waitressing and will spend the night mixing and mingling with the crowd, keeping your drinks topped up, and ensuring everyone enjoys themselves.
We offer lingerie, topless, and completely nude waitressing services in Forster to suit every kind of event. We find that combining nude waitressing with strippers is perfect for rowdier events such as stag parties. For ladies looking to celebrate a hen's night, Black Label Hunnies also has a selection of gorgeous male strippers available in Forster for topless serving as well as G-string and Full Monty shows.
Take Your Party To A Whole Other Level With Our Strippers
If you're looking to turn up the heat at your celebration, then there is no better way to do it than with a gorgeous stripper getting down and dirty. Our range of strip shows are designed to cater for all tastes from R rated performances which are perfect for guys who want to see some boobs to single, double, or triple XXX performance guaranteed to make your jaw drop.
For more information on the range of adult entertainment Black Label Hunnies offer in Forster, please get in touch with us on 04 2345 8411 or through email.