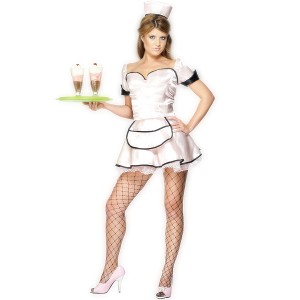 Do you have an upcoming event that needs something a little extra? Our saucy adult entertainment will take your event to the next level. Our strippers and topless waitresses are some of the hottest women Maitland have to offer, with inclusive packages designed to infuse fun, excitement and unpredictably into events of all sizes. Whether you want our girls serving your poker game drinks in scanty lingerie, a topless waitress for a football team event, or some private entertainment for your mate's bucks party, Black Label Hunnies has the entertainment for you.
Add a topless or lingerie waitress to your next event
Nothing says sexy like a topless or lingerie waitress. Our Maitland women are here to take your experience to the next level. Whether it's serving food in skimpy lingerie or making your drinks while topless, our gorgeous women will turn your night into legendary one. Have our lingerie waitresses impress with their stunning good looks, alluring bodies and flirtatious personalities. For your next Maitland event, choose Black Label Hunnies to make a real impression.
We don't only cater for the men. Find one of our hot male strippers or waiters for your Maitland hens night and send the bride-to-be off in style.
Hot strippers to take your Maitland party to the next level
There's nothing quite like a flirtatious stripper stealing the show to make your night memorable. Strippers are a guys' night tradition, so why not add some extra spice with one of our double shows? With everything available from a hot XXX performance, to a toy show, we have the adult entertainment to make your next night a classic.
To find out about how we can help make your bucks night or guys' night out one to remember, call us on 0423 458 411 or send through an email.