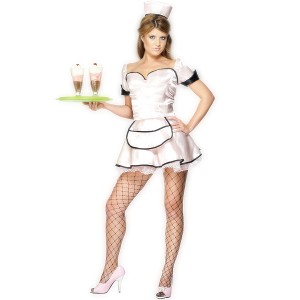 Add some sex appeal to your next celebration or event with gorgeous stripper girls and guys from Black Label Hunnies. Our adult entertainers are some of the best in the business and Black Label Hunnies never fails to satisfy with premium entertainment services which range from flirtatious lingerie waitresses through to single, double and even triple XXX shows that are downright dirty. So whether you're looking to spice up your work Christmas party or go all out for a bucks night in Newcastle, Black Label Hunnies has all of the babes you need.
Have Our Topless and Lingerie Waitresses Serve you and your Guests
Thirsty? No problem, our gorgeous topless waitresses are here to serve. Stunning ladies with model faces and curves like you wouldn't believe will come and serve at your event in lingerie, a G-string, or nothing at all if you so choose. All of our girls have experience working as topless waitresses and are great at mingling with your guests, keeping the drinks topped up, and making sure everyone has a good time. If you're looking to add a unique twist to your event, a lingerie waitress is the perfect way to bring a little spice to the night whilst still keeping things classy. We also have a number of male topless waiters available to serve at events throughout Newcastle.
Take your Event to the Next Level with Our Stunning Strippers
Nothing says a great night out quite like a sexy lady taking it all off. At Black Label Hunnies, we specialise in performances that titillate, entertain, and amaze so if you're looking to take a walk on the wild side, you've come to the right place. Although a topless lingerie waitress can be a great way to start off the night and get everyone talking, some events need a little something extra and we have plenty of performances guaranteed to take your breath away. From classic R rated strip shows to off the wall XXX lesbian performances complete with pearls, dildos and strap ons, we have a show suited to every Newcastle event.
For more information on any of our services available in Newcastle, please don't hesitate to get in touch with us on 04 2345 8411 or via email.