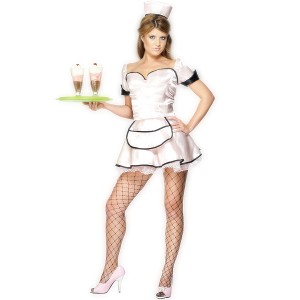 Port Macquarie's Naughtiest, Kinkiest Female Strippers
Supercharge your next event or celebration with wild adult entertainment from Black Label Hunnies. If you're looking for ways to inject some sex appeal into your event, then Hunnypot has all of the answers. Our adult entertainment services are some of the best in the business and range from flirty lingerie or topless waitressing through to absolutely raunchy XXX shows which feature girl on girl action beyond your wildest dreams.
We pride ourselves in having some of the hottest, fittest, sexiest, and kinkiest male and female strippers on our books and so regardless of what services you choose, you're guaranteed to be satisfied. Our Port Macquarie female stripper, lingerie and topless waitress service is the best of the best and can be customised to suit your unique event style.
Spice Up Your Port Macquarie Event With A Topless Waitress
Are you in the mood for some light refreshment and a little titillation? If so, then our topless waitresses might be just the right level of sexy that your event needs. Our talented girls are sure to impress your guests and break the ice as they work the room and mingle with the crowd whilst wearing little more than a G-string and a pair of heels.
If you're looking to turn it down a notch but still keep that sexy vibe, then our lingerie waitresses are an ideal choice, as they bring the spice whilst keeping everything light and flirtatious.
If on the other hand, you're looking to amp it up for a rowdier event like a buck's celebration or a boys night out, then our nude waitresses make the perfect precursors before the strippers take the stage later in the evening. If you're a lady looking for some hot male strippers to entertain with, then we can also help with our many gorgeous guys available for topless serving, as well as G-string and Full Monty strip shows.
Our Smoldering Strippers Will Take Your Breath Away
Of course, we wouldn't be known as one of the best agencies in the business if we didn't offer strippers and shows guaranteed to make your jaw drop. Our male and female strippers are like nothing you've ever seen before. Out girls are particularly wild and available for everything from classic R rated shows through to unbelievable single, double, and triple XXX shows complete with toys.
For more information on the range of services available in Port Macquarie, please don't hesitate to get in touch with us on 0423 458 411 or through email.